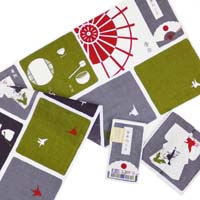 HAMAMONYO's Nassen is 'Yokohama's traditional Nassen dyeing' process. High quality Nassen techniques have been cultivated over years of silk scarf dyeing that uses dozens of colors and dozens of dyes. HAMAMONYO's textiles are created for design using Nassen print blocks and dyes on original cotton cloth. Several more processes are needed to express delicate patterns, color distinction and unique tint. By patiently applying these processes, the textile hardly fades and can be well used. Exclusively produced cloth is bleached according to Japanese methods, resulting in the best texture that comes from the natural fibers. Although it is difficult to dye cloth bleached according to Japanese methods without the skill of an experienced veteran, such obsession creates the unique texture of HAMAMONYO textiles.
Tenugui
Tenugui was originally a cotton cloth for practical use, such as to wipe ones hands or use in the kitchen or bathroom. In the showy merchant culture of the Edo era, unique patterns were enjoyed as fashionable items, and tenugui developed from practical use to a cultural item that conveys the heart of Japanese mind. In the mid-Edo era, tenugui became popular among the general public as a fashion item. For example, city girls walked around downtown with fancy braided hair wrapped with tenugui in stylish patterns, or kabuki actors passed out original tenuguis with their names printed on them like business cards. Today, "Tenugui" type cloths -small dish towel like pieces of fabric, you can buy in Japan for many uses.
©2012 Hamamonyo, All rights reserved.